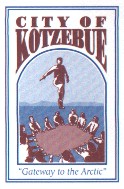 S c h e d u l e O f E v e n t s
Qatnut
"Bringing People Together"
Qikiqtagruk Trade Fair
July 3 - 6, 2005
Qikiqtagruk (Kotzebue), Alaska

SUNDAY, JULY 3rd
HIGH SCHOOL GYM
1:00 p.m. BEAUTIFUL BABY CONTEST

2:00 p.m. SENIOR CENTER FAIRGROUNDS
MOSQUITO HAVEN HALF-MARATHON RACE

HIGH SCHOOL GYM
3:30 p.m. TALENT SHOW:
MISS TEEN ARCTIC CIRCLE
MISS ARCTIC CIRCLE

MONDAY, JULY 4TH

9:00 A.M. PARADE ENTRIES MEET AT STAGING AREA-
9:30 A.M. PARADE STARTS - NEW ROUTE is North from Lagoon St.(Herbert Adams House) down Shore Ave, Right At Crowley, Right On Third To Lagoon, Lagoon To Fifth To Fair Grounds.

GRAND MARSHALL: KOTZEBUE ESKIMO DANCERS AND
NORTHERN LIGHTS DANCERS

MASTER OF CEREMONIES: Wes Goodwin WillieGoodwin
Nate Kotch Sarah Scanlan
DeAnn Hamilton Skeeter Jepson

AT THE SENIOR CENTER FAIRGROUNDS
10:30 A.M.
INVOCATION: Pastor John Forrester, First Baptist Church
OPENING CEREMONIES SPEAKERS:
Gayle Ralston, Mayor, City of Kotzebue
Linda Joule, Executive Director, Native Village of Kotzebue
Sandra Shroyer-Beaver, Chairman of the KIC Board

FLAG RAISING: Alaska Veterans and Army National Guard - 3rd Scout Battalion

NATIONAL ANTHEM: Chelsi Matthews and Katie Kirk

11:00 A.M. BEGIN FOOT RACES immediately coinciding with other activities at the Fairgrounds.
HORSESHOE TOURNAMENT-Softball Field by the bridge
JUDGING OF ARTS AND CRAFTS COMPETITION inside Senior Center.

AT SENIOR CENTER FAIRGROUNDS

11:00 A.M. WELCOMING ESKIMO DANCE
BLANKET TOSS DEMONSTRATION
11:30 A.M. MISS ARCTIC CIRCLE
12:00 noon MISS TEEN ARCTIC CIRCLE
12:30 P.M. BEAUTIFUL BABY AWARDS
PARADE AWARDS-MC & Miss Teen and Miss Arctic Circle
5 K LONG DISTANT RACE

1:00 P.M. ANIMAL CALLING
MUKTUK EATING CONTEST
TUG OF WAR
BIKE RACES
KAYAK RACES
THREE LEGGED RACE
GUNNY SACK RACE
EGG TOSS
LIP SYNC CONTEST

2:00 P.M. ANNUAL ART COMPETITION AWARDS

4:00 P.M. ARCTIC CIRCLE RACING ASSOCIATION WATER CROSS at the Lagoon by Ted Stevens St. bridge

HIGH SCHOOL GYMNASIUM
3:00 P.M. ESKIMO GAMES - 1 ft. High Kick, 2 ft. High Kick & other Eskimo games

8:00 P.M. COMMUNITY ESKIMO DANCES

TUESDAY, JULY 5TH

12:30 p.m. AQPAQSRUQTUAT NANIBUAMUN RACE (Senior Center – 3rd St. – Crowley – Front St. – Hunnicutts – Senior Center

1:00 p.m. OPENING CEREMONIES AT THE SENIOR CENTER FAIRGROUNDS
WELCOME-Willie Goodwin and Elders Council
WELCOME SONGS
SEAL OIL LAMP LIGHTING – Male/Female Aqpaqsruqtuat Nanibuamun Winners And Theodore Booth, Sr
KAYAQ RACING
BLANKET TOSS

FAMILY ENTERTAINMENT CENTER(CITY BINGO HALL)
2:30 p.m.
CLOTH FASHION SHOW ~ atikluks etc
FUR FASHION SHOW ~ parkies, maklaks, etc.

HIGH SCHOOL GYMNASIUM

3:00 - 6 p.m. 1 & 2 FOOT MEN & WOMEN HIGH KICK AND OTHER ESKIMO GAMES.

7:00 p.m. DANCE TEAM COMPETITIONS. Followed By Community Eskimo Dancing

WEDNESDAY, JULY 6TH

AT THE SENIOR CENTER FAIRGROUNDS

12:30 p.m. WATER BUCKET RACE
SEAL HOOKING CONTEST
OUTDOOR COOKING
FISH CUTTING CONTEST
SEAL CUTTING DEMO.
DUCK PLUCKING CONTEST
KAYAQ RACING
SEAL POKE DEMONSTRATION

HIGH SCHOOL GYMNASIUM
2:00 to 5:00 p.m. 1 AND 2 FOOT HIGH KICKS & ESKIMO GAMES

FAMILY ENTERTAINMENT CENTER(CITY BINGO HALL)

3:00 p.m. ESKIMO FOOD COMPETITION
Main Dish
Soup
Eskimo Salads
Baked Goods/Bread/Donuts
Eskimo Desserts
(all entries will be enjoyed at the Farewell Feast)

5:00 p.m. FAREWELL FEAST POTLUCK at Adult Recreation Center (City Bingo Hall). Everyone bring a dish to share
COMMUNITY SINGSPIRATION

HIGH SCHOOL GYMNASIUM
7:00 p.m. FINALS OF ESKIMO DANCE COMPETITION
AWARDS CEREMONY
GRAND FINALE ESKIMO DANCING
CLOSING PRAYER

---
This page prepared and maintained by dgoertz(at)kpd.otz.org Don Goertz,
Web-designer & Assistant LAN Administrator, KPD

- City of Kotzebue -
- Administration Department -
- Kotzebue Police Department -
- Kotzebue Regional Jail -
- Kotzebue Volunteer Fire Department -
- Public Works Department -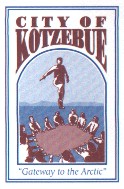 http://www.cityofkotzebue.com