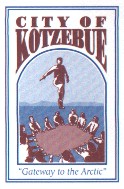 City of Kotzebue Community Calendar Page
---
Community Event & Holiday Calendar
July 4, 2004 (Sunday)

City of Kotzebue - Independence Day Celebration

Schedule of Events 11:30 A.M. PARADE ENTRIES MEET AT CROWLEY STAGING AREA

12:00 NOON PARADE STARTS - ROUTE IS DOWN 3RD AVE. TO LAGOON, TO 5TH AVE TO THE FAIRGROUNDS.

GRAND MARSHALL: RESIDENTS OF OUR SISTER CITY - LAVERENTIA, RUSSIA
MASTERS OF CEREMONIES:
Caleb Pungowi
Wes Goodwin
Nate Kotch
Sarah Scanlan
Skeeter Jepson
DeAnn Hamilton

INVOCATION: Pastor Dan Snyder, Kotzebue Bible Baptist Church
12:45 P.M. OPENING CEREMONIES SPEAKERS
Gayle Ralston, Mayor, City of Kotzebue
Suzy Erlich, President, Northwest Arctic Borough

FLAG RAISING: Alaska Army National Guard - 3rd Scout Battalion

NATIONAL ANTHEM: Ms.Courtney Howarth

SKY DIVING: Kevin "The Skydiver"!
1:00 P.M.
Begin Foot Races immediately coinciding with other activities.
Eskimo Dancing - Northern Lights & Kotzebue Dancers
Blanket Toss Demonstration
Horseshoe Tournament begins right across from Senior Center.

1:30 P.M.
MISS ARCTIC CIRCLE - OTZ Telephone, Annie Seih
2:00 P.M.
MISS TEEN ARCTIC CIRCLE - NAB - Toni Johnson
2:30 P.M.
Beautiful Baby Contest-Lovi Harris & Skeeter Jepson
Parade Awards-MC
5 K Long Distant Race - Paul Hansen

3:00 P.M.
MUKTUK EATING CONTEST - MC
ANIMAL CALLING CONTEST - MC
TUG OF WAR - KIC
SEAL HOOKING CONTEST - Lance Kramer
BIKE RACES – Loaders Softball Team
DOG WEIGHT PULLING - Dog Mushers Assoc.
THREE LEGGED RACE - Andy Baker
GUNNY SACK RACE - Cominco Miners Softball Team
EGG TOSS - Tara Sweeney & Margaret Hansen
LIP SYNC CONTEST - Youth Opportunity Grant Staff
ARCTIC CIRCLE RACING ASSOCIATION WATER CROSS - C. Wilson
ESKIMO GAMES - 1 ft. High Kick, 2 ft. High Kick, seal hop
In High School Gym

end
---
This page prepared and maintained by Don Goertz,
Web-designer & Assistant LAN Administrator, KPD

- City of Kotzebue -
- Administration Department -
- Kotzebue Police Department -
- Kotzebue Regional Jail Facility -
- Kotzebue Volunteer Fire Department -
- Public Works Department -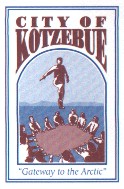 http://www.cityofkotzebue.com