---
Don Goertz Biographical Information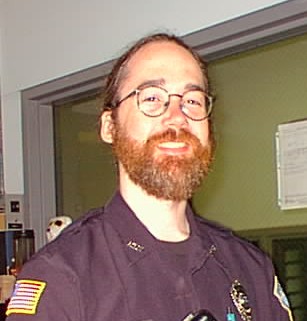 Corrections Officer Goertz grew up in Suburban New Jersey, and got his first law enforcment type job in Eastern Pennsylvania as a Police Dispatcher for a private Police Department, 'Fernwood Security Police'. After 3 years he moved to Florida, and 2 years later found his new home state of Alaska in 1992. Since leaving Pennsylvania he's had several career changes, but returned to Law enforcement when hired to this position in Kotzebue in 1997.


Officer Goertz enjoys the breadth of his position with the Police Department. It's a diverse job, mixing Corrections, Police and EMS dispatch, training new officers, and making use of his PC computer skills as Assistant LAN Administrator, and KPD Web-designer. Don likes to help people, so it's a good position to do just that. Don believes though it's sad that they are here, the prisoners under his care should be treated fairly and with respect, and in turn, they respect him as well. He attended and completed the Municipal Corrections Academy in December, 1999.

Outside of work, Don enjoys medieval history through an organization called the Society for Creative Anachronism (SCA), and started a local branch here in Kotzebue, both for himself and to educate others with similar interests. He's traveled throughout Alaska and has visited most of the U.S., as well as Europe and other travel destinations. Otherwise, he's usually found surfing the net, working on his other web-sites, or buying stuff on ebay.com.
Back to the Kotzebue Police Main Page
Posted November, 2000